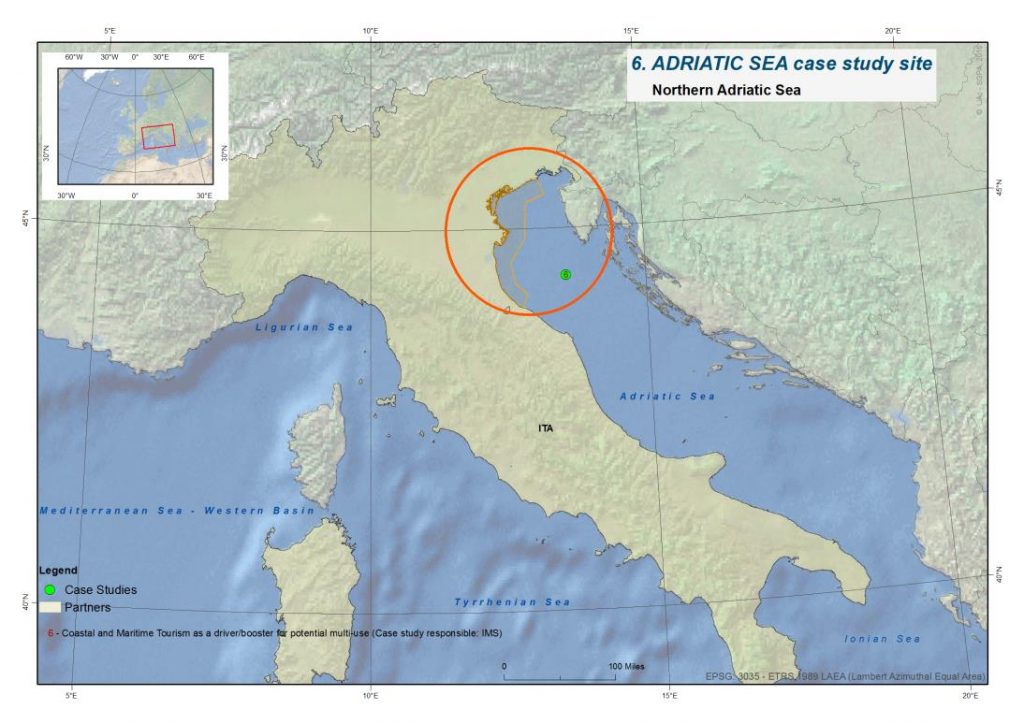 CASE STUDY 6 – MEDITERRANEAN SEA (NORTHERN ADRIATIC SEA)
Coastal and Maritime Tourism as a driver/booster for potential multi-use
The Adriatic Sea area is currently intensively crowded by uses (coastal and maritime tourism, transport of goods and passengers, fisheries, aquaculture, oil and gas, energy and communication cables, military uses, sand extraction, cultural heritage, protected areas) and is expected to grow over the next few years.
The area of analysis is identified in the northern Adriatic Sea, along the Italian coast from Emilia Romagna to Veneto Region, where the interactions among uses are particularly intense and where coastal and maritime tourism represents the main socio-economic driver with great potential for the future. The case study aims to be an example of "soft/distributed Multi-uses", maximizing coexistence and synergies among the uses (i.e. small scale/artisanal fishery, aquaculture, marine protected areas, oil and gas exploitation) that can contribute to sustainable tourism development.
A particular focus on the aquaculture sector as an important activity for the Blue Growth of the area will also be developed. The case study elaboration will be carried out by analysing the conflicts of tourism with aquaculture and other uses and building alternative scenarios where both identifying new suitable sites for the potential development of aquaculture in coexistence and in mutual benefit with tourism, and re-allocating existing aquaculture sites in order to minimize conflicts/barriers and maximize synergies with tourism, boosting the Blue Growth of the area.